Manduyog Hill and Aklan State University (ASU)
(Banga, Aklan). Named after Datu Manduyog, successor of lawgiver Kalantiaw III. It is 500 feet high with life-size Stations of the Cross winding up the hillside and a chapel at the summit overlooking the countryside. Down the hill is the ASCA, an agricultural institution spread on 69 hectares. Tropical fruit trees such as rambutan, mangosteen, and lanzones abound in the school campus as well as pasture land and sprawling ricefields.

Ob-Ob Hill
(Batan, Aklan). Stands 200 meters high like a lighthouse facing the Sibuyan Sea. At the foot of the rocky hill is a fine beach.

Tinagong Dagat
8 km. long and 4 km. wide, between Altavas and Batan, partly hidden from Batan Bay by two islands, fringed with mangroves, thick undergrowth and rocky beach.

Tigayon Hill
(Kalibo, Aklan). A solitary mountain of solid rock amidst stretches of flatlands. One of the sides is a shallow cave with an arched entrance. Inside are an altar-like rock and two bench-like rock formations on its side.

Ignito Cave
(Buruanga, Aklan). Locally known as Elephant Cave due to its appearance. This and other nearby caves are managed by the San Lorenzo Ruiz Farm Eco-Tourism Cooperative. Beautiful limestone formations of stalagmites, stalactites, and other crystalline structures abound. It has a "skylight" in one of its chambers that lets in a soft glow of light at noontime.

Liloan Citrus Farm
(Malinao, Aklan). A place where various fruits abound interspersed with colorful anthuriums and heliconias.

Tigis Falls
(Buruanga, Aklan). Secluded in an area good as a summer hideaway for its cool surroundings.

Basang and Hurom-Hurom Cold Springs
(Nabas, Aklan). These alternative summer destinations offer the beauty of fresh water gushing from nature-hewn rocks and exhilarating adventure down from Gibon river in a kayak.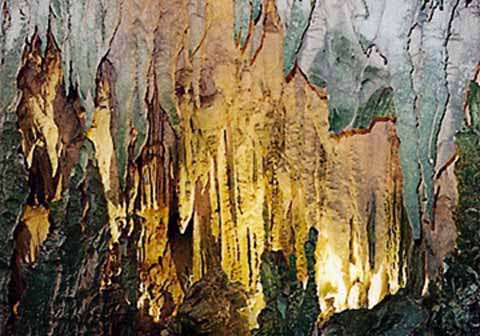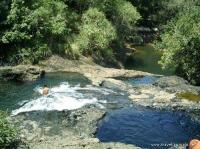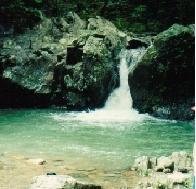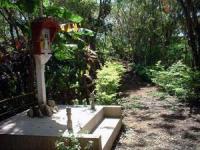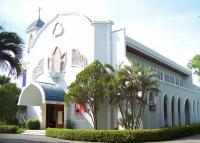 Boracay Island (Manok-Manok & Yapak)
Paradise Island of the Philippines. It is world-famous for its fine and lovely palm-fringed sugar-fine white sand beaches, azure waters, coral reefs, and rare shells. Its area is 1083 hectares consisting of three barangays namely Balabag, Manok-manok, and Yapak.

Agnaga Falls
(Malay, Aklan). A scenic view awaits visitors as they swim in its clear waters. It is a perfect hideaway especially during summer as its cool water beats the heat.

Tigwati-an Island (Crystal Cove)
Shells of varying sizes and kinds lie on its predominantly white sand beach. Caves with interesting crystalline formations can be found in the area. The island is located near Boracay Island.

Jawili Falls
(Tangalan, Aklan). Has seven basins tiered about 20 feet apart. The highest basin is about 100 feet high, oval-shaped, around 240 sq. ft. in area, and 12 feet deep with clear water almost like a small lake. The other basins are of similar shapes from 130 sq. ft. to 240 sq. ft. in area and 8-10 feet deep except for the sixth basin, which has a swimming area of around 540 square feet.

Tulingon Cave
Fifteen kilometers from poblacion Nabas, it is believed to be one of the longest caves in the Philippines. Tulingon stretches twenty kilometers from Bgy. Libertad, Nabas, Aklan to Bgy. Patria, Pandan, Antique. A survey indicates an enormous deposit of guano. Cave entrance is at Bgy. Libertad, Nabas. Just 55 km. northwest of Kalibo, it is accessible by jeepney, bus, tricycle, or private car.

Fatima Hill
Located 9 km. southwest of Kalibo, it is noted for its stations of the cross on the hillside culminating in a chapel made of marble on top of the hill. Accessible by jeepney, bus, tricycle, or private car.

Pink Sisters Convent
11 kms. from Kalibo. To the highly religious New Washington folks, this convent means much. Everything here is pink, from the convent's facade to corridors and to the nuns' attires.